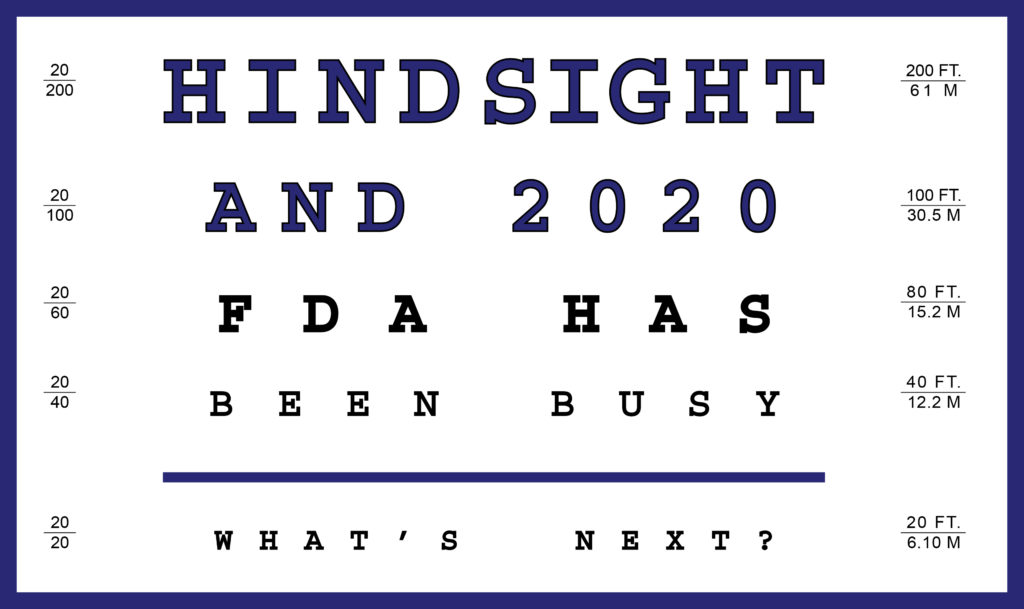 Hello and Happy New Year!   FDA was busy in 2019 but we didn't publish many blog posts: So many topics, so little time. Before looking ahead to 2020, Let's look back at some interesting things that FDA did in 2019.
Drugs: FDA published a final rule on consumer hand sanitizers. Twenty-eight active ingredients were officially removed from consideration as active ingredients.  One of the banned ingredients is triclosan, which has historically been widely used.  New Drug Applications will be required of companies that wish to continue to use any of the 28 banned ingredients.  In related news, FDA has deferred action on benzalkonium chloride, ethyl alcohol, and isopropyl alcohol to allow industry more time to submit data demonstrating safety and efficacy of those ingredients in hand sanitizers.
The agency also published some helpful guidance documents for drug manufacturers.  One is a guidance on conducting maximal usage trials for assessing the safety of topical over the counter drugs.  FDA continued its response to the 1997 FDA Modernization Act by publishing a draft guidance for demonstrating substantial evidence for effectiveness. This guidance discusses scenarios for new types of data that may be used when clinical endpoints are not clear and the possibility that one clinical trial could be sufficient to demonstrate effectiveness.
Medical Devices: FDA has continued to update medical device regulations and one area that is potentially of wide consumer interest is the publication of a final rule for self-fitting hearing aids.  The first such device was cleared in 2018.  The new guidance, which deems self-fitting hearing aids to be Class II and under special controls, may well usher in a time when hearing aids can be bought over the counter, much like reading glasses are today.
Foods: Protection of public health through regulation of foods continues to be high on FDA's agenda.  One sign of this was the issuance of the first warning letter pertaining to the Foreign Supplier Verification Program. In this case the importer failed to adequately monitor their supplier allowing a product contaminated with Salmonella into the U.S. food supply.  It is essential that anyone importing foods or food ingredients understands their obligations under this rule. FDA also provided a list of records required under FSVP.  Click here to better understand whether this regulation applies to your operation.
FDA continued its look at per- and polyfluoroalkyl substances (PFAS), which are used in many food contact substances; particularly to make paperboard containers grease and water resistant and for non-stick cooking surfaces. The agency released analytical results on PFAS in the U.S. food supply as well as testing methods to detect these chemicals.
FDA published a supplement to the food code and an online training manual on how to interpret and enforce it.  They also provided an online food defense plan builder and related training videos.
2019 saw FDA working on Standards of Identity.  Consumer demands have led to changes in the U.S. food supply. Many FDA regulations are outdated and do not address technological advances in food production.  Is ultra-filtered milk really milk?  Not according to current standards of identity.  As a result FDA has reopened the comment period on uses of ultra-filtered milk in cheeses.
Related issues were discussed in a Public Meeting held in September.  Participants discussed naming of plant-based 'milks' and 'meats' as well as issues such as what ingredients must be in French salad dressing and cherry pie.  Another food naming issue is subject to FDA enforcement discretion: The salt substitute, potassium chloride may be listed as "potassium chloride salt" in the ingredient statement on food labels.
Dietary Supplements: In February, then FDA Commissioner, Scott Gottlieb, M.D., announced a plan for policy advancements to modernize dietary supplement regulation. His plan was to communicate concerns about marketed dietary supplements quickly, allow innovation while still ensuring public safety, develop new enforcement strategies, to work with industry partners, and engage in a public dialogue with dietary supplement stakeholders.  In April 2019, FDA announced publication of a dietary supplement ingredient advisory list.  With this list, FDA identifies ingredients that "do not appear to be lawfully included in products marketed as dietary supplements." First on the list were andarine, higenamine, hordenine and DMAA; all most commonly found in supplements for body builders and others interested in physical performance.
In late May 2019, FDA held a public meeting billed as "Responsible Innovation in Dietary Supplements." The public comments focused on the New Dietary Ingredient Notification (NDIN) process that has been stalled since 2011.  Industry called on FDA to consider use of master file system that could limit the number of NDINs that would be required and enable companies that invest in rigorous testing to protect their investments. Industry would also like FDA to reconsider how to define 'chemically altered' as relates to some botanical components and to allow for synthetic copies of phytochemicals to be considered dietary ingredients.  Central to the NDIN issue is determining what ingredients were sold in the U.S. prior to enactment of the Dietary Supplement Health Education Act (DSHEA) and therefore not subject to the NDIN requirement. On October 3, 2019 FDA held a public meeting on developing a pre-DSHEA list of dietary ingredients.
Something new observed in 2019 was the issuance of warning letters to companies that likely consider themselves dietary supplement manufacturers but that are written from the Center for Drug Evaluation and Research (here) and the Division of Pharmaceutical Quality Operations (here).  The dietary supplement industry should be happy to see this.  Industry has rightfully argued that enforcement actions against products with labeling that includes therapeutic claims should not be classified as dietary supplements in those warning letters when they are actually unapproved new drugs.
The Federal Trade Commission (FTC) assists FDA in their enforcement of dietary supplement regulations and in 2019, a court upheld $40 million dollar in sanctions from FTC to a supplement manufacturer for failing to have "competent and reliable scientific evidence" to support product claims.
Cannabidiol CBD:  Is it a food, dietary supplement, pet treat, or drug?  Whatever the answer is, CBD appears to be the hottest regulatory issue of 2019. FDA and the hemp industry are at odds regarding CBD's status while consumers are snapping up products they presume to be safe and effective. Congress has asked FDA to deem CBD to be safe and the agency has undertaken research to address safety and regulatory concerns.
The Year 2020: What is in store for FDA-regulated industry in 2020? Beginning today food and dietary supplement companies with annual sales of ten million dollars or more are supposed to comply with the 2016 revisions to nutrition labeling regulations.  It should be noted that FDA has announced that "during the first 6 months following the January 1, 2020, compliance date, FDA plans to work cooperatively with manufacturers to meet the new Nutrition Facts label requirements and will not focus on enforcement actions regarding these requirements during that time."
As of January 4, 2020, all food facility registrations must be completed electronically unless they have been granted a waiver by FDA.  2020 is an even-numbered year and all facilities must renew their registration between October 1 and December 31, 2020.
FDA is subject to a Consent Decree and must meet deadlines to comply with statutory requirements under the Food Safety Modernization Act (FSMA). The agency was sued by the Center for Food Safety and the Center for Environmental Health for failing to publish a list of high-risk foods.  Per the decree, by September 8, 2020, FDA must provide such a list and publish a proposed rule that includes record-keeping requirements for high-risk foods.
Optimistic hopes for 2020 are that FDA would at last define "healthy" and update other nutrient content claims in congruence with the 2016 updates to nutrition labeling regulations. The old definitions do not work with the current regulations.  For now FDA is not taking enforcement action against foods that are labeled as "healthy" but do not meet the old definitions, as long as their fat content is predominantly mono and polyunsaturated or if they contain at least ten percent of the Daily Value (DV) per reference amount customarily consumed (RACC) of potassium or vitamin D.
It may be overly optimistic but the dietary supplement industry would be pleased to see a list of pre-DSHEA dietary ingredients along with a finalized NDIN process. The food industry is eager for updates to many food standards of identity.  Most FDA-regulated industry sectors will be impacted by any rulings FDA makes regarding CBD.  Whatever happens, may 2020 be a year of vision and insight!