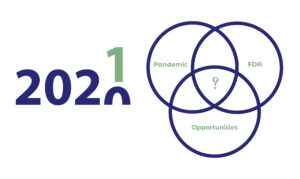 The year 2020 started out ordinarily enough for the FDA Compliance Simplified team.  We had projects related to foods, dietary supplements, over the counter (OTC) drugs, pet foods, and medical devices.  On March 2nd we received our first call regarding a project related to the new virus that was beginning to affect the United States. FDA scrambled to respond to the emergency. Soon we were fielding 5 to 8 calls per day regarding the coronavirus, SARS-CoV-2.  It started with many calls from companies wishing to import medical masks into the U.S.  Fraud was rampant.  Many companies never submitted the safety, efficacy, and quality system paperwork required for Emergency Use Authorization (EUA). Instead, they merely registered their facilities on the FDA website, presenting that as 'proof' of quality and began illegally taking orders from U.S. hospitals.  FDA readily granted EUA status to other manufacturers that did submit the required documentation to support their claims that their masks met FDA standards for effectiveness.  Nevertheless, FDA rescinded over 170 of those EUAs in a single day due to quality and compliance issues that were later discovered.  Masks and gowns for health care workers remain in shortage today.
Mixed in with the calls in March and April were dozens regarding hand sanitizer. Companies that previously manufactured automobile lubricants, other OTC drugs, food, beer, and spirits registered with FDA and began production of the World Health Organization (WHO) hand sanitizer formula. The WHO formula differed greatly from what consumers were used to in that it was not to contain fragrance or gelling agents.
No countries were permitting the export of medical grade masks—some more chastised in the news than others. This combined with the aforementioned rescindment of the EUAs for many masks led to calls from companies that were buying old manufacturing equipment to enable domestic production of masks for front-line medical workers.
FDA Compliance Simplified worked with companies with technologies to decontaminate medical masks and environmental air in medical facilities.  We, like counterparts working on diagnostic tests, experienced major changes to the EUA requirements on a weekly or even twice-weekly basis. FDA updated requirements to meet safety and efficacy concerns raised as OSHA tested technologies to ensure worker safety.
Throughout this time we continued to work on more 'normal' projects. Most of these were previously 'back burner' projects that companies turned to while their normal production was shut down during 'safer at home' restrictions and lockdowns. It was interesting to find that once New York City's restrictions had been largely lifted, we received a number of calls from lawyers, architects, and actors seeking help to launch new food products. It seems that the extra time for reflection, provided while normal work lives were hog-tied, led many to decide to bring their dreams to market. Experienced food entrepreneurs understand the uphill climb those inspired dreamers have to "just sell this recipe I've been making for friends and family for years."
With efforts of industry and FDA focused on the COVID-19 pandemic, shortages of more typical drug products occurred and some continue. FDA's attention remains so focused on pandemic response that typical business has lapsed.  Presubmission meetings that are supposed to be scheduled within 60 days of request are now being scheduled 8 months out.  FDA has not implemented a virtual inspection system with the result that planned launches of new drugs are on hold for the foreseeable future (read more). It has been heartening to see that despite the extra workload for FDA in 2020, the agency did approve a typical number of new therapies. Some of these were for rare diseases with unmet therapeutic needs such as progeria, neuromyelitis optica spectrum disorder, and neuroblastoma.
In what is perhaps a hopeful sign that FDA will give attention to issues other than COVID-19, the agency issued warnings about weight loss and male enhancement products.  Whether this represents a return to normalcy or a response to the increased market interest in hand sanitizers, on December 31, 2020 FDA issued a final small entity compliance guide on consumer hand sanitizers based on pre-pandemic, non-EUA rules.
What will we see in 2021?  There is no doubt that FDA's response to the COVID-19 pandemic will continue to evolve as the agency remains focused on programs to ensure public health related to foods, drugs, cosmetics, and the various other regulated industries. Whatever comes, it is my sincere hope that we will see the lives of all us, consumers, industry, and regulators alike, refocused on more typical avenues of innovation, product launches, and daily joy.
All the best to you and yours in 2021.